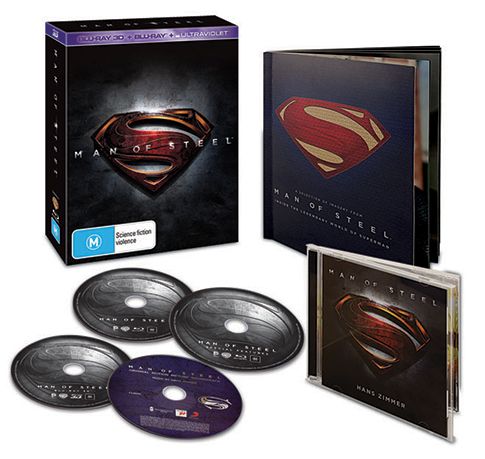 Sanity EXCLUSIVE limited edition boxset contains the Blu-ray 3D, Blu-ray & Ultraviolet versions of the film, the Man of Steel CD soundtrack plus a bonus excerpt of "Inside The Legendary World Of Superman" book!
From Warner Bros. Pictures and Legendary Pictures comes "Man of Steel," starring Henry Cavill in the role of Clark Kent/Kal-El under the direction of Zack Snyder. The film also stars four-time Oscar® nominee Amy Adams, Oscar® nominee Michael Shannon, Academy Award® winner Kevin Costner, Oscar® nominee Diane Lane, Oscar® nominee Laurence Fishburne, Antje Traue, Ayelet Zurer, Christopher Meloni, and Academy Award® winner Russell Crowe.
A young boy learns that he has extraordinary powers and is not of this Earth. As a young man, he journeys to discover where he came from and what he was sent here to do. But the hero in him must emerge if he is to save the world from annihilation and become the symbol of hope for all mankind.
Title: Man Of Steel 3D (EXCLUSIVE EDITION)
Format: Blu-ray
Release Date: 06 Nov 2013
Actor(s): Henry Cavill
Sku: 2245678
Catalogue No: 1000439210
Category: Movies
FEATURES
Strong Characters, Legendary Roles
All Out Action
Krypton Decoded